Dear Parent(s)/Guardian(s): Marvell-Elaine Elementary School Awards Assembly will be closed to the public Thursday, November 3, 2022 due to the rise in Covid-19 and flu viruses.

Special Call Meeting 10/3/2022 @ 6pm

Special Call Board Meeting 9/30/22

Special Call Meeting tonight has been cancelled.

Special Call Meeting 9/29/22 @ 6

Special Call Board Meeting tonight 9/13/22 @ 6pm

There will be NO SCHOOL for students on Monday Sept. 12 and Tuesday Sept. 13. All staff must report to work at their scheduled time on both days.

There will be a special call board meeting tonight 9/8/22 at 6:00.

MESD Parents/Guardians MESD is working with our local businesses to secure clear backpacks for our students. Once this information comes available to us we will make sure it is available to you.

The 22-23 School Year the students are required to carry clear backpacks! Open House Aug. 11 from 4pm-7pm Refreshments will be served. Mustang Athletics (Parents & Student ) meeting Aug 11 at 7pm

Mesd Student Registration at Marvell-Elaine High School going on now until 4pm Wednesday July 27, 2022 9am-6pm Thursday July 28, 2022 9am-6pm Friday July 29, 2022 9am-4pm

MESD Back to School Bash/Open House will take place on Thursday, August 11, 2022 from 4:00 p.m. - 7:00 p.m.

Correction on location for the Elaine Community Family and Community Engagement Meetings-"Bridging the Gap" Monday, June 6, 2022 It will be held in the Vo-Tech Building 100 College Avenue Elaine, AR 72333.

MESD Family and Community Engagement Meetings-"Bridging the Gap" Monday, June 6, 2022 - Elaine Community - City Hall Tuesday, June 7, 2022 - Marvell Community-MEES Cafeteria Time: 5:30 P.M. - 6:30 P.M.

MESD Pre-K registration continues May 25th 9am-2pm.

MESD EMPLOYMENT OPPORTUNITIES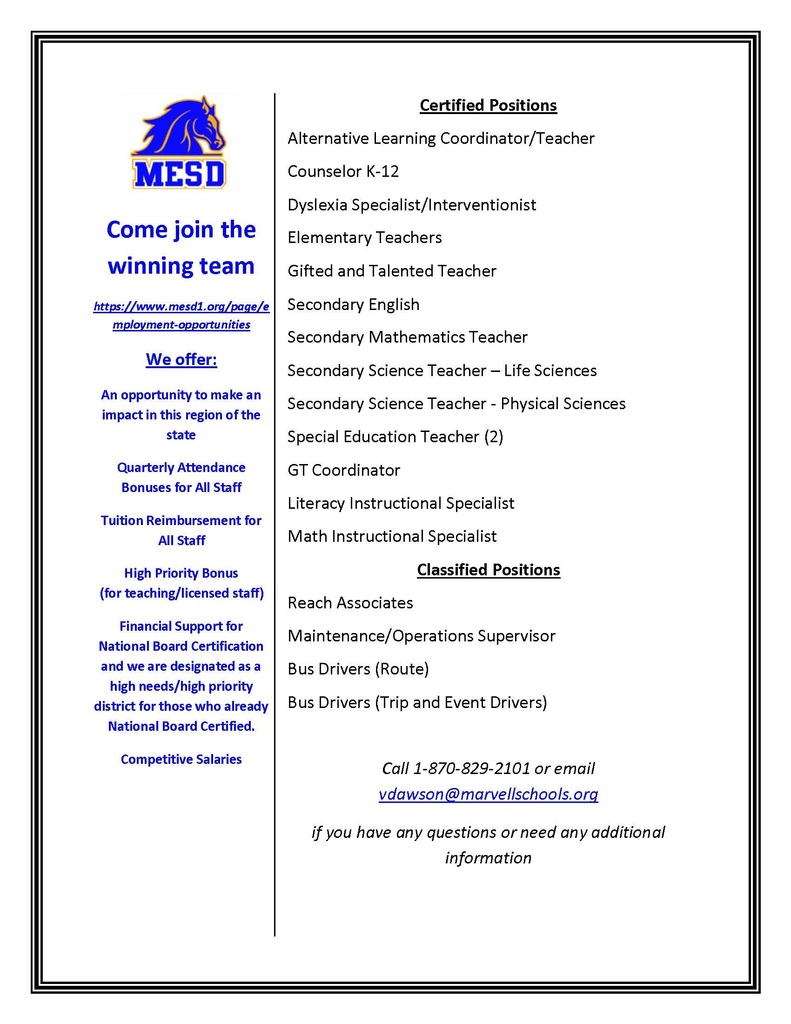 COVID - 19 VACCINATION Monday, May 9th at MESD School Base Health Center from 9:30am until Noon. Parents please send immunization cards and consent forms with the student.

Good Friday, April 15, 2022 Marvell-Elaine School District will be closed. Classes will resume on Monday April 18, 2022

Because of the forecasted weather conditions, Marvell-Elaine School District has decided we will dismiss early today. Bus riders will be dismissed at 1:30 PM. Car riders and walkers will be dismissed after the bus riders have been dismissed.

Marvell-Elaine Schools District is monitoring the weather forecast. If it becomes necessary for an early dismissal we will update our families and parents via social media, text and calls.